Community Programs
SKATING 2015/2016

Skating is now open. This year you will need to have a Community League membership, skating pass or an admission will be charged to skate. Click here to purchase a membership online.
Adults are on the premises to provide assistance and supervision. Skates and equipment are provided at no additional cost
Rink Hours:
Saturday & Sunday: 12 pm - 8 pm
Monday - Friday: 5:30 pm – 8:30 pm
Adult only shinny hockey Tuesday & Friday from 8:30-10:00 pm
PLAY GROUP: A place where you and your little one can come and play, laugh, and learn.
SOCCER:
Visit our face book page for soccer at: https://www.facebook.com/groups/429001993903470/
For more information regarding soccer please visit the webpage of Edmonton West Soccer Association (EWSA) www.edmontonwestsoccer.com
GARDENING CLUB: Looking for people interested in joining our community run Gardening Club, Come and join us as we share our joy of Gardening.
FITNESS CLASSES: Tell us what you would like to see happen at the Hall.
FREE SWIM: Did you know that if you have a community membership you will be able to enjoy free swimming?
Indoor soccer is currently in progress. Outdoor registration for 2015 starts in the spring.
For more information please email This email address is being protected from spambots. You need JavaScript enabled to view it. or call 780-446-0760.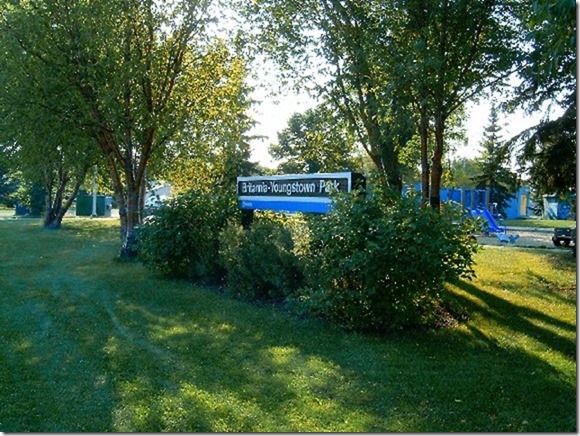 The next Britannia Youngstown Annual General Meeting to be determined for 2016 at 7:00pm at the Community Hall (15927-105th Ave)
The Agenda will be as follows:
-President's Message
-Treasurer's Report
-Positions to be filled
Refreshments will be provided.
Please come out and meet your neighbors and support your community. All residents of Britannia Youngstown welcome.
Email This email address is being protected from spambots. You need JavaScript enabled to view it. for more information.
Interested in becoming involved in your community league? We would love to have you on board, even if it is not as a board member. Email This email address is being protected from spambots. You need JavaScript enabled to view it. for more information.
Looking for a 2015-2016 community league membership? Purchase one online now!
Check us out on Facebook!: We now have a facebook page for the comminuty as well as for the Skating Rink, come check it out and join our groups.
The Facebook group is called: Britannia/Youngstown Skating Rink
https://www.facebook.com/BYCL.EDMONTON Community League Page
Comments or Suggestions?
Britannia Youngstown Community League would love to hear from you! If you would like your community league to host an event or activity, please contact us.
Want to become a member of the Britannia Youngstown Community League? The membership year runs from September 1st - Aug 31st. Memberships cost $25, however if you buy your membership during the month of September, you can purchase it for $20.
A Community League memberships comes with many benefits:
- Free outdoor swimming
- Free outdoor skating
- Organized indoor and outdoor soccer
- Chances to mingle and meet your neighbours in social settings
- Parent's & Tots playgroup - make friends with others in the same stage of life in a fun setting.
We are currently looking for a volunteer person to manage this activity. If your are interested please email This email address is being protected from spambots. You need JavaScript enabled to view it. and an executive member will respond and provide more information as to the roles and responsibilities of the position.
Gardening Club - learn about new techniques, tools and plants while getting to know those in your community with the same passion. We are currently looking for a volunteer person to manage this activity. If your are interested please email This email address is being protected from spambots. You need JavaScript enabled to view it. and an executive member will respond and provide more information as to the roles and responsibilities of the position.
Access to programs offered by other leagues around the city
Community League Wellness Program Present your valid community league membership card at any City of Edmonton Leisure, Sports and Fitness Facility and get a:
Annual Pass* - 10% discount on Adult, Family, Child, and Youth/Senior Annual Passes
Multi Admission Pass* - 10% discount on our already discounted multi admission pass (10+ visits)
Continuous Monthly Pass - 10% discount off a monthly membership pass using our convenient Pre-Authorized Debit Program

Even more important are the intangible benefits, such as living in a community with others, networking, building friendships, looking out for each other and making our neighbourhood a better place to live in.
Please email This email address is being protected from spambots. You need JavaScript enabled to view it. for a membership or for more information.
Subcategories
league programs

Good Morning everyone
The Britannia - Youngstown Casino will be held Sept 24 Thursday and Sept 25 Friday.
I'm looking for workers. If you can or you know of some people who would like to assist please have them to me at 780-486-3561.

These are the positions I need:
Thursday Sept 24 - 11:00 am -7:30 pm - 1 banker, 2 cashiers, 2 chip runners,
11:001 pm - 3:45 am - 7 count room
7:00 p.m. - 3:30 am - 1 cashier

Friday Sept 25 - 11:00 am - 7:30 pm - 1 banker, 2 cashiers
11:00 pm - 3:34 am - 7 count room
7:00 pm - 3:30 am - 1 cashier, 2 chip runners

So I need about 26 workers and 6 back ups
If you can help please let me know asap.
I know it is early but the Alberta Gaming needs to know some of these positions soon.

thanks for your help
Debbie Y.
Jan. 23 12:00 to 3:00 P.M. BYCL mini hockey, ages 6 - 12
Feb. 6 11:00 to 4:00 3 on 3 hockey, ages 13-18
Prises and Bar-B-Que for both